"Creatively, versatility appears to be the name of the game as far as Urban Assault are concerned. This male/female combination of performers is far from a gimmick – they're renowned as some of the most talented in the industry, having paid their dues and then some." KNOWLEDGE MAGAZINE
Urban Assault (aka Faust & Shortee) has been a powerhouse in the DJ/Production world for the last 16+ years electrifying audiences on a global scale. Specializing in the grimy beats & filthy bass line genres of Drum & Bass, Dubstep & Drumstep, this dynamic duo continues to awe masses worldwide both in the studio & on stage complete with live 4 turntable DJ trick sets scratched to perfection.
Ranked as one of the top 5 turntablists in the world by SPIN Magazine, Faust released the first turntablist album in history, the critically lauded Man Or Myth and continues to push the boundaries of his production today in various genres. Shortee is acknowledged as one of the most diverse, technically skilled female DJs in the world, described as "The World's Premier Female DJ" by the Grammy Foundation and named "Queen of the Scratch World" by DJ Times.
Both were featured in the award-winning documentary "SCRATCH" (Palm Pictures) marking their historical contribution to the art of DJing and Turntablism. Together their solo & team albums have earned them critical acclaim in major publications like SPIN, URB, Remix, Knowledge, ATM, DJ Times, Rolling Stone etc., while their music is featured on networks such as MTV, NBC, CNN, HBO, ESPN and more.
In addition to rocking stages on a global scale, Urban Assault is constantly in the studio producing on an arsenal of dance floor bangers releasing music on various record labels as well as their own imprint: Heavy Artillery Recordings. Their tunes are consistently charting in the Top10 listings, some of which holding the #1 spot for weeks at a time. Some of there most popular Heavy Artillery EPs include "Scarface", "Kid Dynomite", "Lose Control" and "Dope". Urban Assault's infamous "Red Raider" EP, was ranked as one of TrackItDown's Top10 Drum & Bass releases of 2009, alongside such artists as Sub Focus, Deadmou5, Chase & Status, Noisia, DJ Fresh and The Prodigy, and it still continues to return to the charts time & time again today.
Some of Urban Assault's most notable releases on other labels include a remix of DC Breaks "Do You Believe" (Restless Natives Recordings) and their remix of Nicky Blackmarket & Phantasy's "Crank" ft MC Skibadee with their own "Easy Run Tings" on the flip (Easy Records). In addition, their tune "Away" (Load Recordings) was nominated for 'Best Jungle/D&B track' in the 2008 International Dance Music Awards.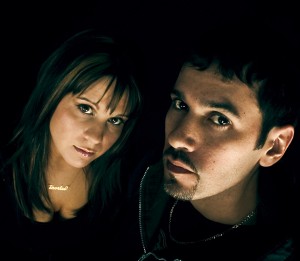 In addition to their productions, DnB veterans Digital & Phantasy commissioned Shortee to create a mix cd for the popular "Jungle Story Album" (Easy/Sativa Records) which also features remixes & exclusive original tunes by the Urban Assault duo. Her live performance at Random Concept's annual "Innovation in the Sun" festival in Spain is also featured on the "Innovation 5 Year Anniversary" Mix CD Pack as well as video & interview footage on the much lauded Random Concept DVD.
Whether they appear as 'Faust & Shortee' or disguised as the grimy "Urban Assault", the bass line is always front and center. Their ambitious schedule shows no signs of letting up as they continue to regularly release a barrage of instant hits each month while continually touring worldwide on 4 turntables, relentlessly bringing the noise to a city near you!
**Check out this insane video of Faust & Shortee aka Urban Assault performing live remixing using the Native Instruments Traktor X1 Controller together with Serato Scratch Live on 4 turntables!

www.urbanassaultdnb.com
www.heavyartilleryrecordings.com
www.soundcloud.com/faustandshortee
www.facebook.com/heavyartilleryrecordings
www.facebook.com/urbanassaultmusic
www.twitter.com/HeavyArtillery
www.twitter.com/UrbanAssaultDJs