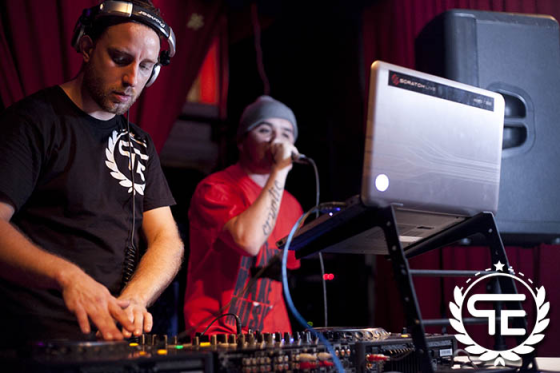 WTF is Squarzan? Where did this incredible bass come from and how did it get in my face? While the simple answer to the first question is an amalgamation of Squally & Tarzan, the story runs much deeper.
Squally (perhaps better known, if only for now, as underground hip-hop phenom Cryptic Wisdom) is an Arizona native, musically and lyrically astute beyond his years. From creative songwriting and versatile beat making to audio engineering, Squally has proven that he is dedicated to perfecting his craft and willing to grind.
The perfect veteran complement to his partner's exuberant youth, Thomas B (formerly known as Tommy Tarzan) has been nationally known in the drum & bass scene for over 13 years. A true "Lord of the Jungle" behind the decks, the one they knew as Tarzan has rocked crowds from New York to San Diego. As every artist must evolve, so has the skill (and alias) of this hot producer/DJ.
As a duo, these two distinctive members of Squarzan form like a bass music Voltron, interconnected by their love of the whomp and desire to make that ass wobble. Pulling from influences as varied as Eminem, Frankie Bones, and LTJ Bukem, the Squarzan sound is spreading like a virus… a delightfully dirty, pounding virus. Bursting onto Beatport with a top 5 in its genre, Squarzan's "Brought The Bass" (from their debut EP of the same name, on Tharsis Records) quickly thrust this duo into the dubstep spotlight. With upcoming releases dropping on 119 Sound and Heavy Artillery, along with gigs-a-plenty on their schedule, Squarzan will be a mystery no more.